I
f your home is in need of a thorough carpet cleaning, rug cleaning, or tile cleaning, then you've come to the right place. At Larson's Chem-Dry of Layton, we are a proud member of the Chem-Dry family. We're able to bring our clients the green-certified carpet cleaning solution, The Natural. The Natural is a hot carbonated cleaning solution that provides a deep carpet cleaning, rug cleaning, and upholstery cleaning that is safe for you, your family, and your pets.
As experienced carpet cleaners, the Larson's Chem-Dry staff is prompt, professional, and committed to your carpet cleaning satisfaction. We use truck-mounted equipment as well as our patented rotary cleaning machine to ensure your carpets and surfaces get the deepest cleaning with the fastest drying times. Within 1 to 2 hours, you'll be able to return your home to normal without a sticky, soapy residue left behind.
Area Rug Cleaning
Do you have large area rugs that need attention? No problem. Our skilled rug cleaners will give your rugs the same level of attention they would to your carpets. Our highly skilled and talented rug cleaners and carpet cleaners know that by giving your surfaces a deep clean, they not only will keep your carpets and rugs looking beautiful, but they'll also help keep you healthy. At Larson's Chem-Dry, our deep cleaning techniques not only removes the dirt and soils, but it also removes allergy and asthma triggers, pollutants, and dust mite waste.
Get Rid of Pet Urine Odor For Good!
The family pet is another reason a thorough rug cleaning, carpet cleaning, and tile cleaning is essential. Everyone loves their fur-covered family members, but the waste and the allergens they leave behind can ruin your carpets and rugs and stain your tiles. That's where our experienced pet odor removal cleaners can help. Armed with P.U.R.T.®, not only will they ensure that your surfaces are thoroughly cleaned, but our pet odor cleaners can help restore your carpets and rugs to their full glory.
Tile often can be as neglected as carpets. When they're first installed, they can be glorious. Over time, however, normal wear and tear can mark, scuff, and stain them. At Larson's Chem-Dry, we'll work to restore their luster so you don't have to take the financial hit of having them replaced.
For exceptional service, you can always count on the experienced professionals at Larson's Chem-Dry of Layton. We love what we do, and more importantly for you, we know how to do it well. With our incredible services, we know you'll fall in love with your carpets and rugs all over again. Go ahead and give us a call, or click on the button to get a quote and schedule an appointment!
Results That Speak For Themselves
An independent lab tested Chem-Dry's carpet and upholstery cleaning process. They found that on average, Chem-Dry's carpet and upholstery cleaning process removed 98% of allergens and 89% of airborne bacteria when a sanitizer was added.
This means that when you choose Larson's Chem-Dry, you can trust that you're getting a healthier home with scientifically-backed results.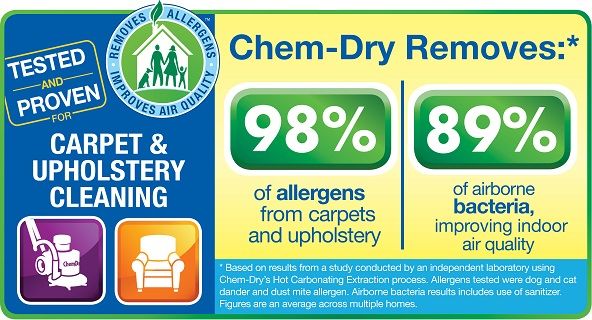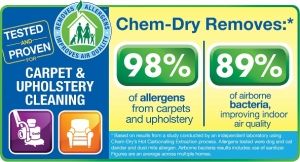 Call Us Today To Schedule An Appointment!